Shorecrest

High School




Class Of 1969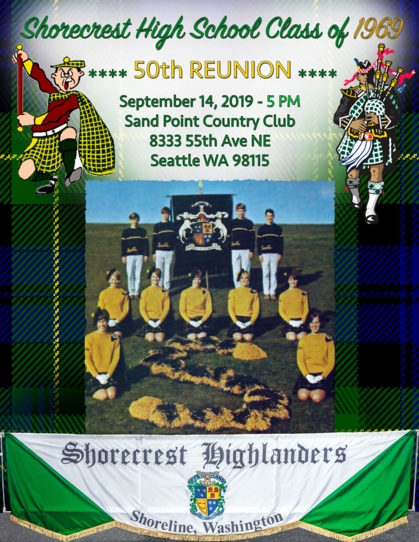 Get ready for the best party ever! It's time to reconnect, face-to-face with your high school buddies!! Some of you even go back to kindergarten or beyond!
Cost: If paid before August 14th, it's $75 per person . After that, or at the door, it will be $100 per person. The fun starts at 5PM with a cash bar. The buffet will start serving at 6PM, and we will have the facilities until 10PM.
Please mail checks (made payable to Robert Fetterley) to:
Bob Fetterley, 6703 37th SW, Seattle, WA 98126
You could put something in the memo section about it being for the reunion if you would like.
Questions?
Call Cathi Hatch Hoffman at 253-227-7938,
or Bob Fetterley at 206- 938-1879,
or Debbie Bender Oatey at 206-522-6309
Kudos to Leigh Hilbert for the great artwork for the announcement/invitation!!!
Also, Ted Burris has organized a golf outing!
The Reunion Golf Outing will be Friday Sept 13th, 12:30pm at MT. Si Golf Course, in Snoqualmie, WA. The event is a non-competitive, low key event just meant for fun, seeing friends and enjoying a round of golf. BONUS...we all get a Sr. Rate!!!...and yes it is Friday the 13th...oh well.
After golf nourishment is a tradition that many SCHS Alumni have enjoyed for several years...a cocktail session and dinner, this time it will be at the restaurant at the golf course. Due to the location of the cocktail session and dinner being changed, the restaurant will have Meatloaf available for those of you who had your taste buds set on it, along with their regular menu items.
Please email me camoduk@comcast.net if you would like to play and if you would like to stay for cocktails/dinner or....if you are not a golfer but just want to join for dinner let me know that as well. My cell is 425-864-6044. Ted Burris
Mt. Si Golf Course 425-391-4926
9010 Boalch Ave SE
Snoqualmie, WA. 98065
Look forward to seeing you on the first tee... or at Mt Si Golf Course Restaurant.
Can't wait to see all of you at the reunion!!!! Spread the word!!! It is very important that you RSVP on this as soon as possible.
PS:Take a trip down memory lane, and click on the link below to hear some great music from '69..
http://upchucky.com/music-jukes/1969/player.html
(When you click on it, the website will go away, so just type the web info in your search bar, and the music will keep playing in the background while you play on the site.)
UPCOMING BIRTHDAYS